Welcome once again to Hostnali Webhost, a Simple, Secure & Dependable hosting provider. We have optimized hosting plans, Reseller Hosting Plans, Master Reseller plans, VPS servers as well as Dedicated servers. Today, however, we will be focusing on [page_title]. Read on and get the knowledge and skills to make your Web Hosting experience fun.
If you want to change the main root FTP Account, then you need to change the password of your cPanel Account. However, if you're going to change the password of a specific FTP Account, you should follow this instruction.
1. Log into your cPanel account.
2. In the Files section, click on FTP Accounts Icon.


3. Under the FTP Accounts list, click on Change Password or use the Password Generator.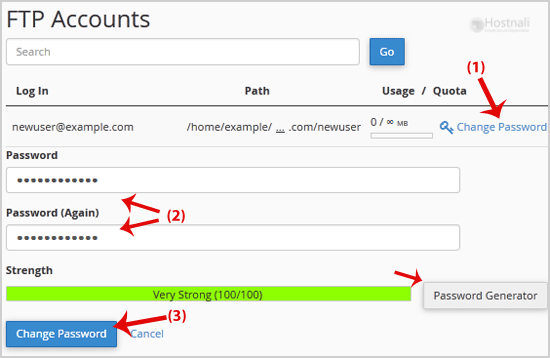 4. Click on the Change Password button.
Now you can access your FTP user account with your new password.