Welcome once again to Hostnali Webhost, a Simple, Secure & Dependable hosting provider. We have optimized hosting plans, Reseller Hosting Plans, Master Reseller plans, VPS servers as well as Dedicated servers. Today, however, we will be focusing on [page_title]. Read on and get the knowledge and skills to make your Web Hosting experience fun.

You can download files from your website to your Computer using FileZilla Client.
1. Open FileZilla FTP Client.

2. Enter your FTP Host, Username, and Password. You can use your cPanel username and password as your FTP User and Password and then click on the Quick Connect button.

In the Host field, You can use your domain name like ftp.hostnali.co.ke or hostnali.co.ke.


3. In the right-hand side inside the Filename box select files or folder, you wish to download. You can press the CTRL button and choose multiple folder/files and then press right-click on file or folder to choose and then click on the Download button.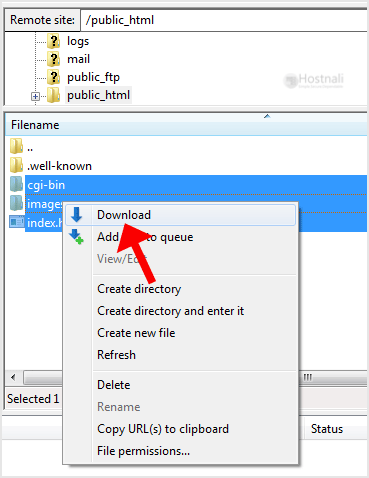 It can take a few minutes to download. You can see progress.