Welcome once again to Hostnali Webhost, a Simple, Secure & Dependable hosting provider. We have optimized hosting plans, Reseller Hosting Plans, Master Reseller plans, VPS servers as well as Dedicated servers. Today, however, we will be focusing on [page_title]. Read on and get the knowledge and skills to make your Web Hosting experience fun.
Here is How to generate and download a full backup of your cPanel Account. We already covered how to generate the backup for cPanel Home directory as well as MySQL databases.

1. The first thing it to Log into your cPanel account.
2. Within the Files part, click on the Backup Icon.




3. Underneath Full Backup, click on on the Download a Full Website backup button.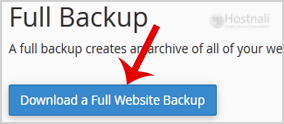 4. From the dropdown menu, choose the backup destination as Home and enter your email address within the e-mail area so that you could obtain a notification when the backup is complete.


After the cPanel backup finishes, you'll obtain a notification, and the backup can be accessible for download under the Backups Available for Download list on the Full backup page.