Welcome once again to Hostnali Webhost, a Simple, Secure & Dependable hosting provider. We have optimized hosting plans, Reseller Hosting Plans, Master Reseller plans, VPS servers as well as Dedicated servers. Today, however, we will be focusing on [page_title]. Read on and get the knowledge and skills to make your Web Hosting experience fun.
1. Log into your cPanel account.
2. In the Databases section, open the app installer by clicking on the phpMyAdmin icon.


3. In left side-bar, Click on the expand button to expand the database like "example".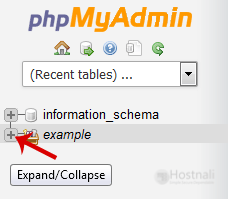 4. Under your cPanel username, you can see a list of all databases. Select an appropriate database in which you want to import SQL.

5. Click on the Import button.


6. Under File to Import click on the Browse button, Select SQL file from your PC.


7. Scroll down and then click on the Go button.
If its show a message in green box then it means your SQL is successfully uploaded.