Welcome once again to Hostnali Webhost, a Simple, Secure & Dependable hosting provider. We have optimized hosting plans, Reseller Hosting Plans, Master Reseller plans, VPS servers as well as Dedicated servers. Today, however, we will be focusing on [page_title]. Read on and get the knowledge and skills to make your Web Hosting experience fun.
You can include or exclude your domain from AutoSSL.
If your domain is newly created, wait for a few hours, so cPanel can automatically install an SSL on your domain. However, if an SSL is not installed on your domain even after 24 hours, first check the last log of AutoSSL from cPanel >> SSL/TLS Status >> Certificate Status.
1. Log into your cPanel account.

2. In the Security section, open the app installer by clicking on the SSL/TLS Status icon.


3. Under domains, choose the domain you wish to include and then click on the "Include x domain(s) during AutoSSL" button, and your selected domain/sub-domains will be included in AutoSSL.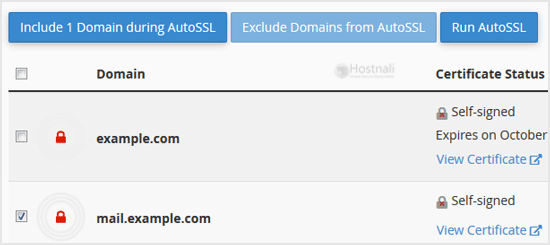 4. Later, should you wish to exclude your domain, which you included, under Domains text tick mark the domains you want to exclude and click on the "Exclude x domains during AutoSSL" button and your selected domain/subdomains will be excluded during AutoSSL.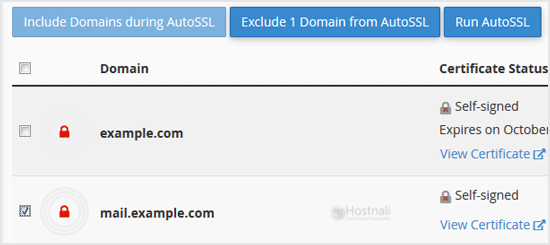 Note: Only domains included by you can be excluded. It means you cannot exclude domains unless they are added to the inclusion option by you.