Welcome once again to Hostnali Webhost, a Simple, Secure & Dependable hosting provider. We have optimized hosting plans, Reseller Hosting Plans, Master Reseller plans, VPS servers as well as Dedicated servers. Today, however, we will be focusing on [page_title]. Read on and get the knowledge and skills to make your Web Hosting experience fun.
cPanel is a #1 Hosting Control Panel in the web hosting industry, and you can easily install it.
What are the requirements?
– Fresh CentOS 6 or 7, installed on your VPS/Server.
How to install cPanel?
1. Login to your VPS/Server via the SSH Client.
2. Please copy the following command and paste it in the SSH Console. Then press enter.
cd /home && curl -o latest -L https://securedownloads.cpanel.net/latest && sh latest
3. The cPanel installation has begun. It can take from 15 to 25 minutes.


4. Once the installation is complete, the console will display a message like the cPanel Installation has been completed.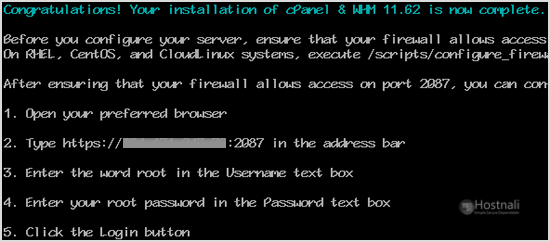 5. Open https://your-server-IP-here:2087 (WHM)
6. Enter the username root in the username field.
7. Enter your root password in the password field.
8. Click the Login button.

cPanel/WHM Setup Wizard:

Step 1: Read and accept the agreement.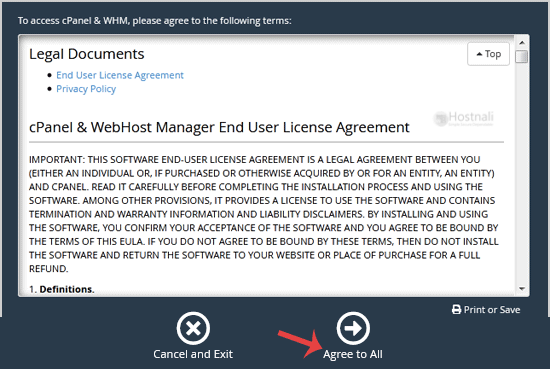 Step 2: Setting up Nameserver & Email:
– Email Address: Enter your email address. You will receive cPanel related alert on your email.
– Nameservers: Enter your domain nameserver such as ns1.hostnali.co.ke and ns2.hostnali.co.ke (Replace hostnali.co.ke with your domain name).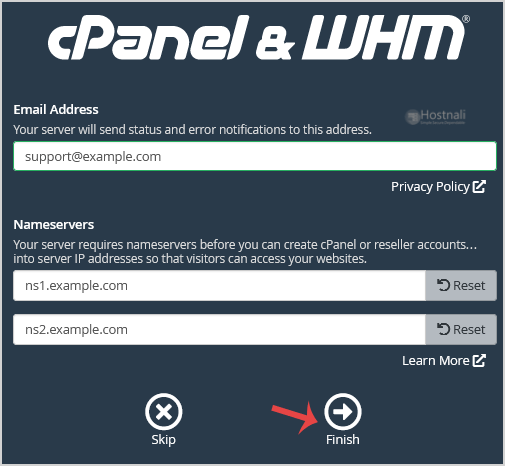 Finally, click the Finish button.
Congratulations, the cPanel Installation is complete, and now you will need to compile Easy Apache, change settings, install a firewall, etc.