Welcome once again to Hostnali Webhost, a Simple, Secure & Dependable hosting provider. We have optimized hosting plans, Reseller Hosting Plans, Master Reseller plans, VPS servers as well as Dedicated servers. Today, however, we will be focusing on [page_title]. Read on and get the knowledge and skills to make your Web Hosting experience fun.
1. Log into your cPanel account.
2. In the Domains section, click on Redirects Icon.


3. Under Add Redirect, you should enter the following details and chose the appropriate option.
Type: Permanent (301) or Temporary (302)
https?://(www.)? Leave this as it is or should you want to redirect a folder or a page, then enter the name of your folder or a full page path in the text box.
Redirects to: Where you want to redirect your current domain or a page.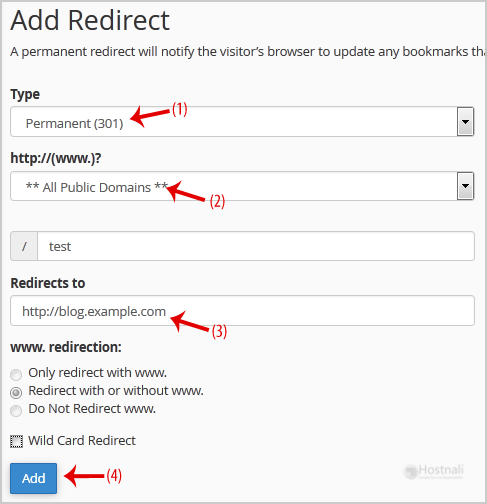 4. Click on the Add button.