Welcome once again to Hostnali Webhost, a Simple, Secure & Dependable hosting provider. We have optimized hosting plans, Reseller Hosting Plans, Master Reseller plans, VPS servers as well as Dedicated servers. Today, however, we will be focusing on [page_title]. Read on and get the knowledge and skills to make your Web Hosting experience fun.
You can not remove the Uncategorized category, but you can rename it.
1. Login to your WordPress admin dashboard.

2. Under the dashboard menu, hover your mouse on Posts and then click on Categories.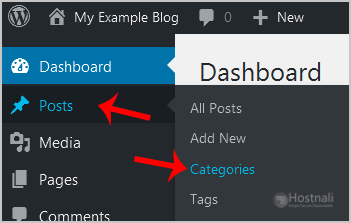 3. On the right side, you can see the Uncategorized category option. Please hover your mouse on it, and a few options will appear. Click on the Quick Edit option.


4. Change the name and slug and then click on the Update Category option.