Welcome once again to Hostnali Webhost, a Simple, Secure & Dependable hosting provider. We have optimized hosting plans, Reseller Hosting Plans, Master Reseller plans, VPS servers as well as Dedicated servers. Today, however, we will be focusing on [page_title]. Read on and get the knowledge and skills to make your Web Hosting experience fun.
If you can access your cPanel account, follow these steps to reset your password:
1. Log into your cPanel account. (e.g., www.hostnali.co.ke/cPanel )
2. In the Preferences section, click on Password & Security Icon.


3. Enter your old password.
4. Enter your new password or use a password generator.
5. Click on the change password.
You will see a success message. Then it means your password is changed, Log out and access your account using your new password.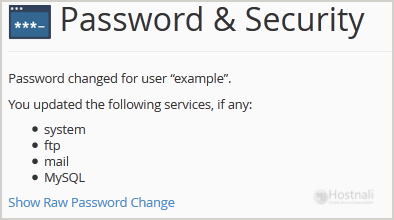 Note: If you forgot your cPanel password and are unable to access your account, please open a ticket with us.