Welcome once again to Hostnali Webhost, a Simple, Secure & Dependable hosting provider. We have optimized hosting plans, Reseller Hosting Plans, Master Reseller plans, VPS servers as well as Dedicated servers. Today, however, we will be focusing on [page_title]. Read on and get the knowledge and skills to make your Web Hosting experience fun.
If you generated your Certificate Signing Request (CSR) from cPanel and forgot your CSR, then you can retrieve your CSR. Only follow this tutorial if a CSR was generated from cPanel.
1. Log into your cPanel account.
2. In the Security section, open the app installer by clicking on the SSL/TLS icon.


3. Under the Certificate Signing Request, click on Generate, View or Delete CSR link.


4. Under Certificate Signing Requests on Server text, you can see your previously generated CSR. You can see the Edit and Delete options under the Action option.
5. Click on the Edit option, which is located under the Action option.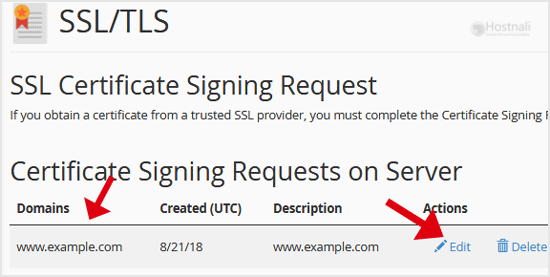 6. Copy your CSR code, which is located under the Encoded CSR: text.
Copy the code from
-----BEGIN CERTIFICATE REQUEST-----
to
-----END CERTIFICATE REQUEST-----