Welcome once again to Hostnali Webhost, a Simple, Secure & Dependable hosting provider. We have optimized hosting plans, Reseller Hosting Plans, Master Reseller plans, VPS servers as well as Dedicated servers. Today, however, we will be focusing on [page_title]. Read on and get the knowledge and skills to make your Web Hosting experience fun.
You can unsuspend cPanel accounts from WHM. Follow this tutorial to unsuspend your cPanel user.
1. Login to your WHM Account.
2. Go to Account Functions >> Manage Account Suspension or type Manage Account in the search box, and the option will appear.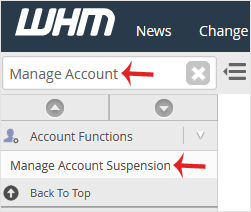 3. Under Select by Domain, choose the user you wish to unsuspend or if you know only the username, select the user under Select by User from the dropdown list. If the user is displayed in red color, it means he is suspended. Alternatively, if he is not displayed in red, then he is already unsuspended, and you don't need to take an action.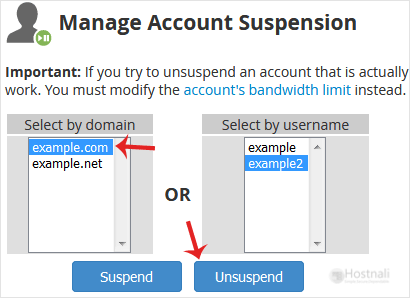 4. Click on the Unsuspend button.
The account will be unsuspended, or in case of an issue, an error message will display.